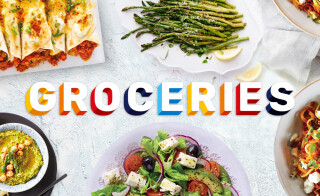 What's in store this spring?
The days are getting lighter and your local Aldi is bursting with exciting spring ranges. Pop in today and you'll find fresh family meal ideas, wonderful wines and spirits and all the outdoor Specialbuys you could want. Not to mention the spring cleaning essentials you voted as your favourites. And all available at prices you won't believe. See you in store soon.
Let's eat outside!
Finally! Now we can take the family into the back garden and enjoy some food in the sun. For the full spring experience, refresh your furniture and check out our delicious al fresco food selection online and in store now!
Turn your groceries into great dishes
You might know exactly what to do with your weekly shop, but it's always fun to find new recipes and keep things fresh. Try these dishes from our spring cookbook and bring some new flavours to your family dinners.
There's more to like in store
Your local Aldi is the only place you'll find amazing offers on fresh fruit, veg and meat. Every week, we take our favourites and lower the prices even more so you can enjoy healthier, tastier meals. Your local Aldi might also have Click & Collect to make shopping easier. Find out now.
Browse everything you need on our Groceries Click & Collect website
While we're well known for our award-winning groceries, there's so much more to explore at Aldi, including a fantastic drinks selection, frozen food, household, health and beauty and our amazing baby and toddler range! Browse our range online through our Click and Collect website or visit our store finder to find your nearest store.