Mandatory face coverings
To ensure the safety of our customers and colleagues, it is mandatory for all customers (with certain exceptions) shopping in our stores to wear a face covering for the duration of their visit. Those who refuse to wear a face covering, without medical exemption, will not be allowed in store. We thank you for your cooperation.
Look out for our traffic light system
Right now, we are all looking out for each other, and your safety continues to be our number one priority. That's why most Aldi stores have a traffic light system to ensure that social distancing guidelines can be followed easily and safely. To minimise the number of people in store at any one time, we ask that you shop alone where possible.
Our Click & Collect orders are prepared safely
We are committed to the safety of all our customers and colleagues. That's why all of our Click & Collect orders will be bagged to reduce handling and increase speed. When you let us know you have arrived at the collection point, a member of our team will come out with your order and complete your transaction at a safe distance.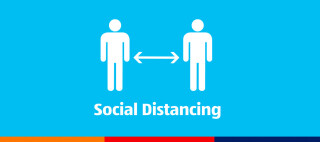 Social distancing in stores
While our stores remain open, the health and safety of our colleagues and customers is paramount, that's why we are implementing the following steps to encourage social distancing.
Opening Hours
Our shelves are now well stocked throughout the day. Our busiest time is between 11am-3pm, so by extending our hours you have more time to shop safely. Normal Sunday opening hours remain in place. To find your local store opening times please visit our Store Finder page.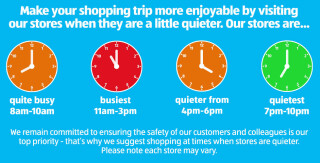 COVID-19 Online Order & Delivery Update
For the latest update about online deliveries, please click here
Thank you to our staff and suppliers
You are all doing a vital job in feeding the Nation. Thank you for your continued patience and co-operation during these unprecedented times. If we continue to work together, supporting each other and finding solutions, we will continue to face into this situation and be able to come through it.
To thank you we will provide all our store and distribution staff with a 10% bonus on hours worked. This is effective from 9th March 2020 until the end of April 2020 and will be reviewed on a monthly basis.
As part of our ongoing support for small suppliers, we will reduce payment terms so that any supplier with a turnover of less than £1m will now be paid immediately. This will benefit over 1,000 Aldi suppliers. .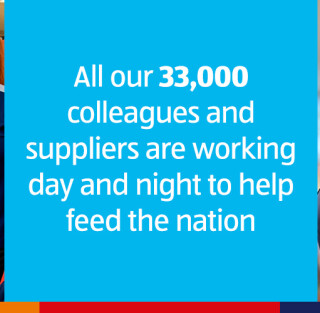 How to keep the kids entertained
If you're looking for inspiration on how to entertain the kids at home, take a look at Aldi's Activities page. From cooking and crafts, to games, quizzes and family time, we've got bags of easy and affordable ideas to keep everyone happy and active.