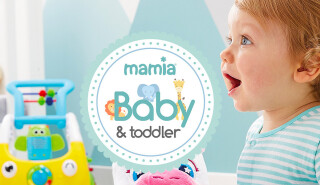 Mamia welcomes you to parenthood
You're not alone! Here at Aldi, we know becoming a parent can be an amazing time. It can also turn your world upside down. So, whether you need a go-to Hospital Bag Checklist, stress-free weaning tips, or amazing nappies, we're here to help with a bundle of fantastic parenthood advice and inspiration.
Why parents love Mamia
There are lots of reasons why parents have come to trust Mamia. Our nappies and baby wipes have been winning awards for quality and value for years. And we cater for every stage, from newborn to toddler.
Time to get nappy happy
Nothing is going to make your baby happier than being comfy, dry and fresh. And the good news is, Mamia Ultra-Dry Air SystemTM nappies have 2x faster absorbency and up to 12 hours day and night protection.
Look! No more saggy bottoms.
The bottom line is, we've come up with a drier, fresher and neater nappy. Watch the video below to find out more about our revolutionary lock-in air flow technology. And download our sizing guide to make sure you get the perfect size for your little ones.
How to make mealtimes amazing
Whenever you are ready to start weaning, you'll need plenty of patience and understanding. To help we've put together lots of top tips and wonderful recipes, including inspiration on how to introduce textures and tastes with ease. Good luck!
Be good to yourself
Attempting to look after a little one is easier when you make sure all of the grown-ups are being good to themselves as well. Here are few good places to start when it comes to self-care.
Are you ready to go?
If you're nearing the 35-week mark it's a good idea to have your hospital bag ready to go. Here's a handy checklist to help you get sorted.
Aldi's hospital bag checklist
It's best to be all set for the big day. This checklist will help make sure you have everything you need to hand, so you don't need to worry about a thing when baby decides to make an appearance. Exciting! Just click and download.