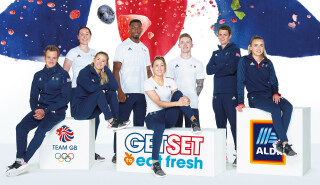 The countdown is on!
With less than a year to go until the Tokyo 2020 Olympic Games, Team GB is preparing to take on the world. As official supermarket partner, we're thrilled that our Team GB ambassadors are here to share our passion for amazing, fresh, affordable food and a healthy active lifestyle. So join us, the team behind the team, as we get on track for Tokyo 2020.

We're with you all the way
It's easy to stick to a healthy lifestyle when you have a host of Team GB champions behind you every step of the way. From healthy swaps and energy-boosting recipe inspiration to top training tips, our Team GB ambassadors have teamed up with Aldi to make sure you reach those health and fitness goals.
We're right behind you
There's no doubt that Great Britain produces some of the best. While Aldi continues to win awards for its amazing fresh, affordable food, our Team GB athletes have gone from strength to strength on the world stage.
Inspiring the next generation
As part of our amazing Get Set to Eat Fresh initiative, our Team GB ambassadors will be helping us inspire kids up and down the country by sharing their own passion for sport, health and food.